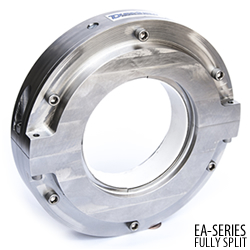 The Durashield EA Series engineered seals effectively address the most problematic processing applications. High pressures, excessive shaft speed and difficulty to adjust are the most common reasons for pre-mature seal failure. EA Series seals address these problems while meeting the requirements of a positive pressure shaft seal. Widely used for bulk processing of abrasive wet or dry products.


Although EA Series seals are designed to fit C.E.M.A. standards for 4-bolt flange bearings they are not capable of being mounted between bearing and end plate of equipment. Please allow for proper clearance between back plate of seal and bearing.
EA Series seals are custom built to meet your processing requirements!
Please contact us for more details
• General installation notes: download
• AIR Purge installation notes: download
• General Maintenance & Rebuild info download
• EA Series Installation Guide download
• Technical Specs & Sizes download


STANDARD CONFIGURATION:
• Compliance: Food, Dairy, Pharmaceutical & Non-Corrosive processing
• Effective sealing: Wet, Dry, Powder or Slurry processing applications
• Process rated for

-60˚F

to

350˚F


• Housing: T6-6061 Aluminium
• Elastomer Boot: EPDM-Silicone (FDA Compliant)
• Wear Plates: PTFE-Teflon (FDA Compliant)
• Air Purged Operation

Configuration Options: (* = Non FDA Compliant)
• Housings: 304 & 316 Stainless Steel ,Hastelloy ,Inconel ,Carpenter 20
• Drive Assemblies: SELF ADJUSTING CHEM-RING
• Elastomer: *Hi-Temp Elastomer (600˚F)
• Wear Plates: Teflon, *Filled Teflon, Peek, Rulon, Vespel

EA Series Technical specifications:
• Pressure Holding: 60 psig. Max
• Vacuum Holding: MAX 30 inHG
• Air Purge Connection Start Pressure: 15 - 20 psig.
• Typical Air loss: 1.5 - 2.0 SCFM
• Bolt Torque for seal mounting: 50 pounds
• Maximum Shaft Run Out: .250" TIR.
• Stuffing Box Misalignment: .015 TIR per inch of shaft
• Shaft Growth: ± 1/16"
• Shaft Tolerance: ± 1/16"
• Max. Out of Square Mounting Deviation: 1°
• Field Repairable: YES
• Food Service: YES
• Chemical Resistant Configurations: YES
• High Temperature Configurations: YES
• Custom Designs Available: YES
• Standard Housing Material: T6-6061 Aluminum
• Optional Housing Material: 304 & 316 Stainless Steel
• Elastomer: SILICONE-EPDM (See options)
• Minimum Available Seal Thickness: 2.25"
• Shaft Speed: Variable by shaft diameter

DIMENSIONS

SHAFT DIA
-A-

Housing
-B-

Bolt Sq. Max
-C-

Bolt Sq. Min
-D-

Slot Width
-E-

Elastomer Adjust
-F-

Air Connect
-G-

Seal Width
-H-

1.8750"