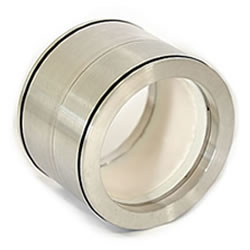 DuraShield SC-DrivePac  series seals are designed for easy installation into adapter plates.
As a direct replacement for existing gland or lip type seals in drives the SC-DrivePac improves seal performance and drastically reduces maintenance costs.  The SC series also performs optimally in rotary airlock applications!  Minor machinery modifications may be required to utilize this capability.

SC-DrivePac series can also operate with air pressurization for greater sealing capability. Air pressurization is not absolutely necessary for optimal operation though it is recommended. Pressurized operation requires a pneumatic connection via the adapter plate housing.  It may be necessary to modify the adapter plate to accept an 1/8" Threaded NPT Air port for pressurized operation.

SC-DrivePac seals are machined to spec by application. We do offer models for Browning, Dodge, Falk & Rexnord brand drives (models listed below). When ordering please use the SC-DrivePac application form or call 1-877-243-7325.

| | |
| --- | --- |
| • Tech Specs & Compatibility List download | |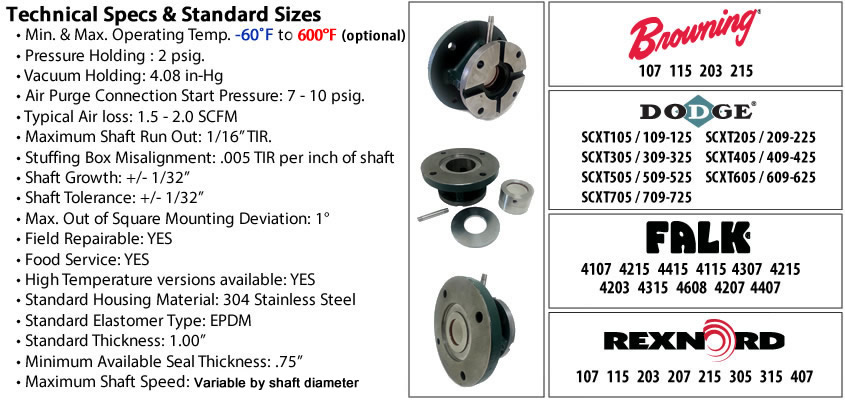 Elastomer options:

SC Drive pac seals utilize two varieties of elastomer to
address processing applications with optimum efficiency
Standard EPDM
FDA Compliant

(Optional) Extreme Duty& High temp

· Max temp: 350° F
· Min temp: -65° F


· Max temp: 600° F
· Min temp: -65° F